Welcome to our place in the world!
Welcome back to 2020 and a special welcome to our knew families that have joined our school community. A big thank to all the families that attended the Meet the Teacher sessions as I know that the staff really enjoyed connecting with you and your child. We are really looking forward to another exciting year and ahead as we implement and continue a variety of school wide initiatives.
If you would like to hear more about these please see the information below about our Parent Information Evening that will be taking place on Thursday 27th February.
Our Year 6 Teachers
and Students for a fantastic Camp
this week.
Parent Information Evening
On Thursday 27th February 6.30-8.00pm we will be running our annual Parent Information Evening in the school hall. The evening will be broken down into two parts.
The first part of the evening Michael Maher (Principal) will share an overview of our Annual Goals followed by a selection of teachers talking through the key initiatives.
The second part of the evening you will be invited to attend one of the following workshops:
Workshop One:
Focus: Learning Through Play ( Year 0-2)
Location: Hall
You will hear from an expert in this field from Longworth Education who will share the philosophy and thinking that sits behind Learning Through Play followed by the year one teachers talk about how they are developing Learning Through play in their learning spaces.
Dates for Term 1
February
20 School Picnic
27 Parent Information Evening
March
5 Eastern Zones (Y7&8) Softball mixed)
11 Years 5-8 Swimming Sports
16 Bay Suburbs Softball (Y5&6)
16 Eastern Zones School Rippa Rugby
17-18 Year 5 Camp
17 Y7&8 Immunisation Consent Talk
18 Year 1 Cultural Picnic Afternoon
23 Bay Suburbs Swimming
24 Eastern Zones Swimming (Y7&8)
25 Y7&8 Vaccinations
27 Year 2 Collaborative Assembly
April
1 Y7&8 Catchup Vaccinations
1-2 Outdoor Adventure Group: Walk
and mountain bike
9 Last day of term
Workshop Two:
Focus:What is on offer for Our Year 7/8 Learners
Location: S10/S11
You will hear from some a selection of students and teachers who will share what opportunities are given to the Year 7/8 students and what learning looks like in their learning spaces.
Parent Communication
If you have any concerns or queries relating to your child's learning or incidents that occur at school, please follow the procedure outlined below:
In the first instance, contact your child's classroom/home room teacher.

If you feel you need to discuss the matter further, please make an appointment to see the appropriate Team Leader.

If you feel your concerns are still unresolved or you wish to seek further advice, please make an appointment with the appropriate Deputy Principal.

Matters still unresolved after following this process will be escalated to the Principal by the Deputy Principals.
We are all here to work co-operatively towards the best possible education for your child, so please do not hesitate to contact us.
Team Leaders
Year 0/1 – Carolyn Agoston

Year 2 – Michelle Fisher

Year 3 – Diane Jackson

Year 4 – Nicky King

Year 5 – Maria Kroonenberg

Year 6 – Janet Rothery

Year 7 – Nicky Brickland

Year 8 – Lana Thain
Deputy Principals
Years 1, 3, 5 and 7 – Claire Fromow

Years 2, 4, 6 and 8 – Ingrid May
2020 Term Dates
Term 1: Tuesday 4th February – Thursday 9th April
Term 2: Tuesday 28th April – Friday 3rd July
– Friday 29th May – Teacher Only Day
– Monday 1st June – Queen's Birthday
Term 3: Monday 20th July – Friday 25th September
Term 4: Monday 12th October – Wednesday 16th December
– Monday 16th October – Labour Day
– Tuesday 27th October – Teacher Only Day
Please note: There are two Teacher Only Day's that have been recently added to the calendar.=, these are highlighted in red.
Term 1, Week 2 Construction Report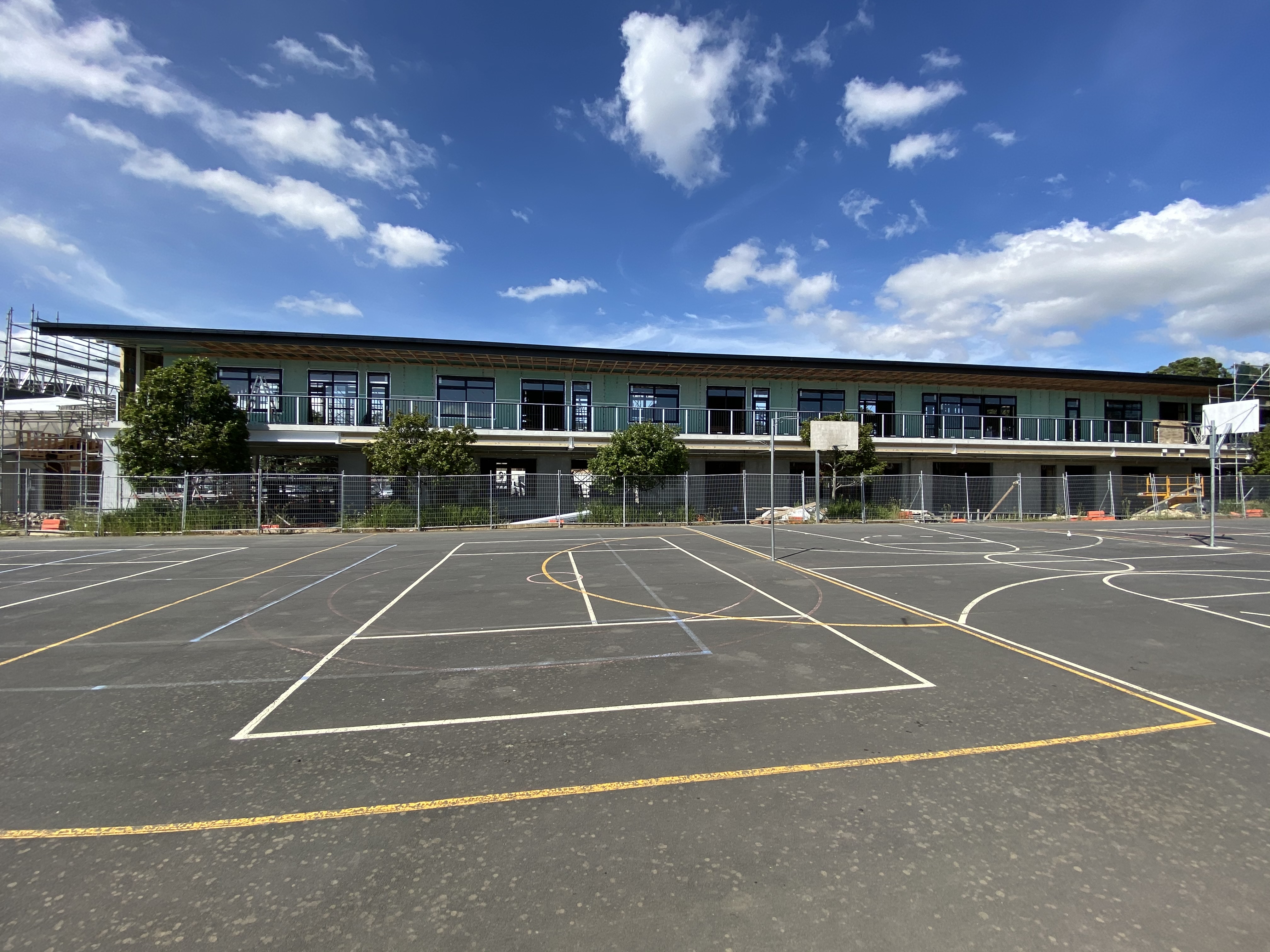 Hi there! That's right, I'm back! Alex Heaton, your favourite newsletter reporter has returnedand I'm better than ever as a senior in Year 8! Let's get on to business, shall we?
If you happened to go past the school over the holidays, many of you would probably have spotted the fast progress just by looking at the building! Since school started on Tuesday last week, parents and students alike now see the monumental changes in the 8 weeks over the summer holiday up close.
First of all, most of the glass and railing has been installed on the upper story, which makes it a lot nicer to look at. Secondly, the builders are starting to create the entrance between the new block and the staff building, which is a very different look than what we used to have with all that scaffolding. Finally, after talking with the construction workers (they were very friendly!), I have discovered that the newly added green stuff on the walls is HardieGlaze, a board that acts as a wall liner.
All in all, it's really getting on, so next time I'll be able to provide you with a whole lot more info. See you then!!!
Year 8 Valentine's Day fundraiser
This week, a group of passionate Year 8's have been preparing for the Year 8 Valentine's Day camp fundraiser. All students across the school were given gifts, whether it was from their parents who ordered Valentine's Day gifts to be sent to their child/ren, or one of the Year 8's handmade Valentines gifts. Parents have been very generous and receiving the presents will be a lovely surprise for both the kids and teachers. What a lovely start to the year!
We worked with Miss Thain during lunchtime and created a production line to make paper heartnecklaces, and people who weren't part of the line were making cards for both students and teachers. It was really awesome making necklaces and cards. The production line worked hard and well. We ended up making a little over 100 necklaces! We couldn't count all the cards we made, but it was a lot of fun working with everyone.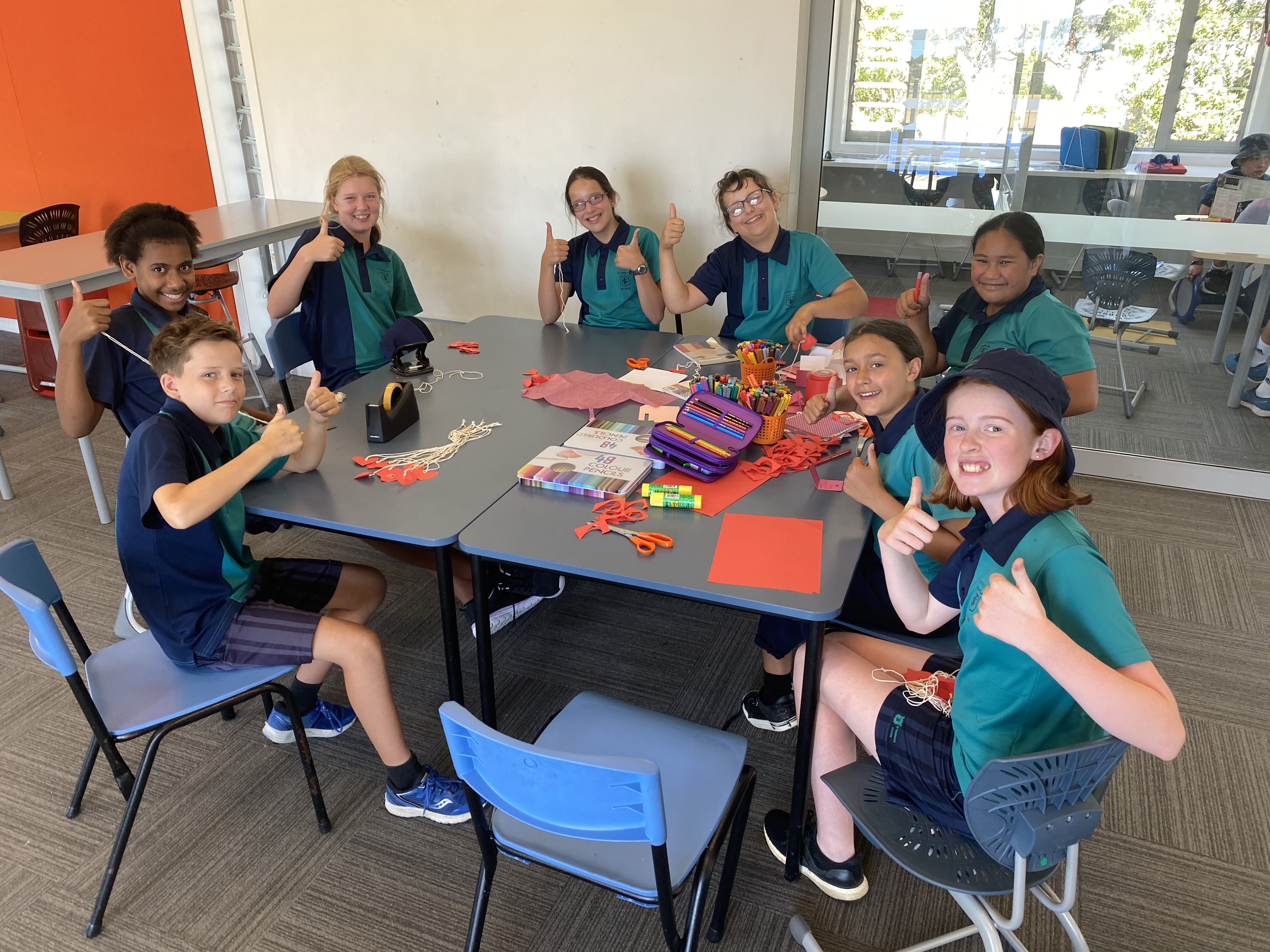 Roses are Red
Violets are Blue
Cheers for camp donations
We say a big THANK YOU!
Lily Baldwin, Year 8
S10 Youth Town Adventures
On 13th of February, my class S10 got to go to Youth Town. A lot of us were super excited and were ready for a day of fun. When we arrived at the Orakei Basin the staff all introduced themselves and gave us a brief for the day. Once we all understood the house rules, we went and got changed. After everyone had gotten changed and was ready, they split us up into our 4 groups. That day, each group got to do 2 of the four activities. The activities were Sailing, Paddle Boarding, Windsurfing and Kayaking. My group's first activity was sailing. The Instructor, Felicia, gave us instructions on how to set up and assemble our boat, then gave us some good advice on how to sail. We then split up into partners and went and set up our boats. Once we were on the water we kept sailing to different objects. It was super fun and relaxing. Our second activity was kayaking. First our instructor, Dell, gave us instructions on things like if you capsize or if you get stuck. When we got on the water in the kayaks we practiced a thing called rafting where we line all the kayaks in a row. We had lots of fun splashing each other and playing games. Overall Youth town was a really fun experience and I think more people should get excited for this really cool trip you can take in Year 7. By Lola Beange
Yesterday S10 drove down to Youth town at the Orakei Basin, where we were greeted with a warm welcome. The class sat down and ate morning tea, then shortly after we were put in groups. The group leader led us to the demo boat, told us to get in pairs and helped us assemble the boat. Soon after we were in the lake! My partner was controlling the mainsail and I was on the rudder. It was all going really well until my partner jumped off the boat. It took me and her awhile until she was somehow back on the boat
After the first round of activities, we headed back to the boat ramp to eat lunch. Shortly after lunch, it was time for kayaking. The instructor showed us how to paddle, then we picked up our kayaks and went down to the water. We played a game called bunch up, where you grab onto each other's kayaks so one of you can stand up, but when I tried I slipped off.
After the afternoon activities, we brought our kayaks in and got changed. The class then said thank you and goodbye to our coaches and went back to school. By Andee Campbell
2020 marks our 9th year of involvement in the NZ AIMS Games, a nationwide multi-sport tournament for Intermediate aged students held in Mount Maunganui every year. 2020 is also the 16th year the tournament has been running. In this time the event has gone from just 760 competitors representing 17 schools and four sporting codes to last year's event where 11,500+ competitors represented 365+ schools from throughout New Zealand, Asia and the Pacific in 23 sporting codes.
This event is the largest annual sporting event in the Southern Hemisphere, and it has more competitors and codes that the Commonwealth Games!
Historically, St Thomas's School has participated at AIMS in a wide range of sports including: Basketball, Indoor Bowls, Girls Football, Boys Football, Netball, Hockey, Cross-Country, Waterpolo and a multitude of individual sports.
The standard of competition across the board is elite. Many of the larger Intermediate Schools pour money and resources into their teams in the hope of coming away with an overall win. For schools with smaller number of Intermediate aged pupils, like St Thomas's, the goal of winning the tournament for any one code is less tangible, however participating and providing our students with an amazing experience is our main goal. This participation and experience also needs to be balanced with an ability to be competitive at our chosen sports. No child enjoys a whole week without some success and it certainly does nothing for their self-esteem or confidence to continually face convincing losses. To date we consider that we have punched above our weight in terms of the success we have had against schools with much larger numbers of students and availability of resources.
At the start of each year we meet to discuss which sports teams we will take to this tournament. Our final decision depends on a number of factors including:
Coaching expertise – what affordable coaching options do we have access to that are at the level required to produce an elite team?
Student talent – in what sports do our current cohort of students display outstanding talent in enough numbers to be able to put a team together?
Training facilities – do we have, or are there appropriate nearby facilities, in which our students can train and be coached?
Teacher/staff availability – this must be balanced with the core requirements of our school which are teaching and learning.
Availability of accommodation – how can we safely house the number of students we wish to take?
Talent spread – what range of sporting options will ensure a variety of students get to attend?
In a smaller school, this last point, in particular, is vitally important. We often find that our top sports competitors would be selected in our top team for a number of sports. Therefore, we cannot offer multiple sports that would 'rob from' or dilute the talent pool available for another sport.
Because the tournament is so popular, accommodation is difficult to find and commands a premium price. St Thomas's School does not fund student's participation in AIMS Games, but the week does cost us in terms of staff members who attend in a coaching and/or supervisory capacity. Parents pay for their children to attend this tournament. The total cost per student is around $800 for the week. To ensure that participation in AIMS is not only an option for the financially affluent, we facilitate a range of fundraising activities to reduce the cost for our families. Examples of this fundraising are our termly bake sales, pizza lunch days, cross-country costume carnival, etc. We love that our school community gets in behind these fundraising activities and supports our senior students to be able to attend this amazing event. AIMS has certainly become part of our culture and an aspirational goal for many students at all year levels.
As much as it is a dream come true for many of our students when they are selected for a team, it can also be a source of great disappointment for those who miss out on the opportunity. Such is the nature of sporting competition, which is one of the many reasons why sport is so good for helping children to develop resilience.
We have thought long and hard about our sports for 2020, and taking into consideration all mentioned factors we have opted to take the following teams:
Boys Football
Mixed Hockey (6-a-side)
Mixed Waterpolo
Cross-Country (mixed)
+ Individual Competitors
As we move into trials for our 2020 teams we trust that our students and also parents will keep all of the above in mind and participate with enthusiasm, but also the understanding that there is a reasonable chance that they may not be selected for a team. All teams are selected using a panel of independent personnel. Selection is also dependant on school-work being up to date and of a high standard as well as on behaviour being consistently maintained at a level that we deem appropriate for representing our amazing school in the public arena.
Thanks in advance to all of our community for your support in making this happen and enabling St Thomas's involvement in this fantastic event!
Term 1 General Reminders
School Hours
Children are expected to be in class, prepared for the day by 8.55am. Please ensure you have your child at school in plenty of time.
For safety and supervision reasons no child should be on the school grounds before 8:00am and we discourage children being dropped off before 8.15am. Please Note: Classrooms may be locked until 8:30am as teachers are involved in meetings and daily preparations.
School finishes at 3pm and for safety and supervision reasons children are expected to leave the school grounds promptly.
Parking
Please be aware of the parking signs around the school.  These are there for the safety of all our children.  Please do not park at the bus stop between 8.30am and 9.00am and note that this area is 5 minute parking at any other time of the day.  Please respect our neighbours and do not park over their driveways.
Staff Car Park
Do not enter either of the Staff car parks or turn in them. This is for the safety of the children.
Kea Crossing
Ensure your children cross the road either at the Kea Crossing on Allum Street or at the lights on the corner of Allum St and Kohimarama Road.
The Kea Crossing must be kept clear of cars and it is illegal to turn your car near the crossing when it is in operation.
Picking up Children During the School Day
If you need to pick up your child for an appointment during the school day, please sign them out from the school office before collecting them from their classroom. Please be aware that you cannot do this at morning tea time between 10.30am -10.50am and at lunch time between 12.30pm – 1.30pm.  Please arrange the collect them either before or after these times.
Absences
Please inform the school before 9.00am if your child is absent or late.
Please state:
Childs' full name

Room number

Reason for absence or lateness e.g. doctor, dentist, sick, holiday etc.
Options for notification are:
Flexibuzz App

Text 027 758 0542

Phone (09) 528 3938