Welcome to our place in the world!
This week a child was hit by a car outside the school on Allum Street. It was only by good luck the child was not killed. We also had two near misses, also on Allum Street, as children dashed across the road in front of cars. Children are running across Allum Street, rather than using the safe crossings provided. This habit is formed when parents either walk their children across the road outside the school or when parents call to them to run across the road instead of using the propper crossings.
Harry Steel in Year 5 now holds the NZ Junior Record for the heaviest Yellow Fin Tuna ever caught in New Zealand!
(see article later
in newsletter)
Do: cross your child at the Kea crossing or at the traffic lights
Do Not: ask your child to run across the road
Do Not: abuse our staff who insist that children use the Kea or traffic light crossing
Lets all work together to ensure that our young people get to and from school safely.
Michael Maher
Parking around the School
Please do not park over our neighbours' driveways. We are getting a number of complaints from our neighbours saying they cannot leave or enter their properties due to our parents/carers parking over their driveway. Also, please do not turn into either of our carparks as this is very dangerous when students are coming to or leaving school.
Dates for Term 1
March
5 Eastern Zone (Y7&8) Softball
11 Years 5-8 Swimming Sports
16 Bay Suburbs (Y5&6) Softball
16 Eastern Zone (Y7&8) Rippa Rugby
17-18 Year 5 Camp
17 Y7&8 Immunisation Consent Talk
18 Year 1 Cultural Picnic Afternoon
23 Bay Suburbs (Y5&6) Swimming
24 Eastern Zone (Y7&8) Swimming
25 Y7&8 Vaccinations
25 Year 2 Collaborative Assembly

April
1 Y7&8 Catchup Vaccinations
1-2 Outdoor Adventure Group Trip
9 Last day of term
Anxiety in Students
In recent years, school Principals are reporting increasing numbers of students who are showing signs of anxiety and stress at an early age. We are also noticing this at St Thomas's School with some of our very young students entering school with anxiety issues. There is no simple answer as to why this is happening, nor simple answer as to how to stop it.
At St Thomas's School our staff work with all our students to build their resilience to support them to bounce back when they meet challenging or difficult situations. We also fund a school counsellor to provide one to one support and have a range of programmes which our Special Education Needs Coordinator organises to support resilience.
There is an increasing amount of research which indicates that allowing children to 'fail' in a safe and supportive way actually builds their resilience and allows them to grow emotionally. The temptation to rush in and 'rescue' our children often overlooks the opportunity to support and grow the child to work through the situation themselves and therefore build their resilience to tackle more complex issues as they grow older.
St Thomas's School staff deal with children who present with increasingly complex emotional and social development issues. Staff work with all students to help them stretch, grow and develop into happy well-adjusted young citizens. We ask that parents continue to work with our staff on the 'growth' focus of development and a lesser focus on the 'rescue' approach. The article below by developmental psychologist Anna Anzar looked at various parenting styles and how they might influence the reduction or emergence of anxiety in young children.
From the anxiously involved helicopter parents to the pushy tiger mums, these differing styles all have one thing in common: they tend to involve over-parenting. This is where parents micromanage their children's lives – giving them little autonomy, putting too much pressure on them to achieve academic and personal success, while allowing few chances for their children to experience failure and frustration.
Young people who reported having over-involved parents experienced higher levels of depression and stress, less satisfaction with life, as well as less ability to regulate their emotions.
These are the parents who run back to school when their children forget their sports kit, do their homework, and ask others in the parent WhatsApp chat for the homework when their child does not bring it home. These parents believe their children are always right. They will confront teachers if the child feels they have been unfairly treated, or will confront other parents if, say, their child is not invited to a party. As their children grow, these parents decide which subjects their children should choose, and do not allow their adolescents to travel on their own because they are afraid they may be kidnapped.
These parents may well accompany their children to university applicant interviews, or even to job interviews. And they are parents who consider themselves their child's best friend rather than their parent. While there is no doubt that these parental behaviours are acts of love, the problem is that by making sure that the children never fail an assignment, experience a detention, or the disappointment of not being invited to a party, these parents are not letting them fail. As a result, they are effectively hindering their child's development.
THE POWER OF FAILURE
By learning to overcome failure, children develop resilience. They learn to deal with frustration and to regulate their emotions properly. And it is crucial children develop these skills during childhood to be able to lead successful lives. Most of the research on over-parenting has focused on how it has affected university students. But the link between over-involved parents and negative consequences is found when examining children of all ages. Indeed, pre-school and primary school children of over-involved parents tend to experience high levels of shyness, anxiety and poor peer relations. When examining adolescents and university students, these negative consequences continue. For example, 16 to 28 year-old students who reported having helicopter parents were more likely to have low levels of self-efficacy – the trust that people have in their own abilities and skills – and poor relationships with their peers.
The difficulty lies in establishing what the right amount of love and demandingness is.
In similar research, young people who reported having over-involved parents experienced higher levels of depression and stress, less satisfaction with life, as well as less ability to regulate their emotions. They also reported a higher sense of entitlement, and increased drug use than young people with less involved parents.
Over-parenting does not only have negative consequences for the children, though. Parents who over-parent are more likely to experience high levels of anxiety, stress and regret. This in turn has negative consequences for their children, who may pick up on their parents' anxiety and make it their own.This may be one of the reasons why the number of university students struggling with anxiety and depression is at an all-time high. Indeed, a recent poll concluded that one in five university students in the UK suffers from high anxiety levels.
So, should all parents back off and not get involved in their children's lives? Not quite. Because to make matters more complicated, research clearly shows that children who have involved parents tend to do better at school, have higher levels of self-esteem, and better peer relations than children whose parents are not as involved. Children whose parents are warm, loving and have high expectations of them tend to do better than children of cold and undemanding parents. The difficulty lies in establishing what the right amount of love and demandingness is. So, the key aspect that researchers are now trying to establish is what the optimal level of parental involvement is.
There is no doubt that parents want to protect their children and avoid them getting hurt but they also need to consider when that level of protection becomes too much. So, next time your child rings from school asking you to bring in their sports kit, think twice before doing it. Life inevitably brings problems and disappointment. It is better to teach children how to face these issues rather than to solve all their problems for them. By doing so, parents will help children to develop resilience and the ability to deal with frustration – tools that will allow them to thrive once they leave the parental home.
Ana Aznar is a Lecturer in Psychology at University of Winchester This article is republished from The Conversation under a Creative Commons license. Read the original article.
House Captains for 2020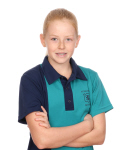 Hello, My name is Ella O'Brien and I am your House Captain for Rangitoto this year. In 2019, I was part of the STS Waterpolo team. Overall, we placed 27th, but I am proud of all our efforts. I am looking forward to Tabloid Sports day and House Relays. I am hopeful that all of Rangitoto will make STS proud. Here is a snippet of my application:
I feel that I would be a great leader because I have had lots of experience with leading, I always try to make sure everyone is having fun and getting involved, and if there were to be a problem I would attempt to first fix it myself and then involve an adult if need be. This year the vice-captain for Rangitoto is Sophie Barry.
Hi, my name is Lily Baldwin and I'm the Kohimāramā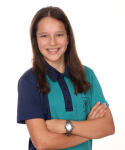 House Captain. I've been here at STS since Year 1. I started playing Waterpolo last year and even participated in AIMS. I love to read and write. When I was younger I looked up to the house captains and told myself that I would be like them. Here I am in 2020, staying true to my word. When I found out I was House Captain, I was surprised. It was one of the best moments of my life. I will do my best to lead, Kohimāramā, and everyone in it. I am looking forward to House Relays, and hope that like last year, Kohimāramā will come first. No matter what though, I will cheer for whoever wins. My Vice Captain is Mirai Mcewan, and I believe he is just as excited as I am.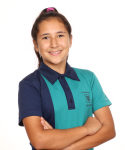 Hello, my name is Kamila Muedinova. I will be this year's House Captain for Hauraki. My Vice Captain is Jimmy Nielsen. This is really the first time I have tried putting myself out there. I feel like I am starting to get way more confident and sure of myself this year. A little more about me, I love animals and helping them, and learning to draw. I will be playing in the softball tournament and hopefully many other tournaments. I am passionate about learning new things like a new language (I learn French in my free time). I am very excited to get started with this year and see what it has to offer.
Hello, my name is Alex Heaton and I am your new Pohutukawa House Captain, so I think you should know a bit more about me. I am a passionate leader, ready to strive towards my goals. My strengths include reading, working hard and being passionate. The interests of this school are my top priority so I volunteer in my environment as much as I can. I do a good bit of writing for the newsletter. My most read work is the construction update and occasionally I do one-off stories and reports like this one. All in all, I hope that you'll look out for me and Amber Thomas, my similarly hard-working Vice Captain and hand in your homework on time!
Change In Board Of Trustees Chair
The first Board Of Trustees meeting of the year was held on Monday 17 February. The first item on the agenda of any given year must be to elect the Board Chair. Richard Klipin stepped down as Chair and was thanked for his time and efforts at the helm of the Board. He remains on the Board as an elected Trustee.
Michael Morton, parent to Coco (Year 5) and Ivy (Year 2) was chosen as new Board Chair. The Board also voted in a Deputy Chair, Georgia Houlker, parent to Toby (Year 3) and Max (Year 1). If you ever need to contact a member of the Board of Trustees you can do so by emailing BOT@stthomas.school.nz
Property Update, Week 4
Hello again, it's me! Alex is back and is bringing with him a bunch of info about the construction. A few colds and viruses may be passing around school, but if our builders have caught anything, they're certainly not showing it with all the work that's done. Let's get started!
First of all, the insulation has been installed, which means the builders might be able to have breaks away from that scorching, late summer heat. Also, the foundations are ready for the join up between the staff block and the new building which means a lot more constructions in the coffee room. Some GIB boards, a wall lining used in interior construction, are starting to be put up inside, which will eventually lead to wallpapering or painting of the inside. Behind the building, the external cladding (those really long concrete slabs) are almost finished and in just a little bit of time, the doors will be set up.
On a more perspective note, I've noticed that the sprinklers outside are up and running (good if the builders want to cool off), and the wiring for what I presume is the lights are being installed. Maybe I'll mention those next week, so keep on reading and have a nice two more weeks!
Year 6 Camp Carey
Day One
On Wednesday 12th of February 2020 the restless Year 6 children dashed into St Thomas's School. Some excited, others nervous, today was their big day, three days away from home and Mummy and Daddy at Year 6 camp. After the boiling hot bus ride the Year 6 teachers were nearly deaf from all the screaming! When the kids arrived they had a safety briefing in the dining hall, then ran to find their cabins and friends who would be with them for the next few days, some excited to unpack, others wanting to visit friends cabins and explore. The Year 6's went to the gym and got into their activity groups before running off to their first activities. Everyday after activities kids had 45 minutes of free time and lots of them used it on the Slip and Slide while others went to their cabins to relax or went to the playground. Dinner was butter chicken and the kids loved it. We had 45 minutes to get ready for the Burma Trail. The kids loved exploring the forest blindfolded and were ready for supper as soon as the Burma Trail had finished. The kids went into their comfy bunk beds, some went straight to sleep, but others stayed up really late!
Day Two
The tired kids woke up from their peaceful slumber, got up and went to breakfast. For breakfast there was cereal, spaghetti, toast and lots of yummy spreads to put on top.
On day two we had six hectic activities, after about three activities we had some delicious Mac and Cheese then headed back outside for three more activities.
After the three activities we were allowed free time, during free time one the favourite activities was the Slip and Slide since it felt like the hottest day ever! Others liked to go on the trampolines. After free time there was pork for dinner and mashed potatoes. Yum! Quiz night was in the dining hall, everyone had to answer 10 questions about 10 different topics, the parents entered too! The all time winners were the upstairs dads, group H boys and group B girls won for the children. Everyone one was exhausted so most people settled into bed quite well.
Day Three
The year 6's found it hard to wake up so the parents gave them a little push to get up for the day. . .
Before breakfast the kids had cabin inspections and had to have their bags packed and outside. Since it was the last day Year 6's only had three activities when they were done they packed up, goodbye Camp Carey Hello Cuddles!
By Holly Fergsson, Tallulah Savory, Mia Trethewey and Miller Hawthorn
No Dogs on School Property
Please note that dogs are not permitted on the school property at any time. If you do tie your dog up at the front of the school please do not tie them near the steps leading up to the office. It is also very important that dogs are not brought onto the property during the weekends as our field is used for sport and PE and it very unpleasant for a student to encounter dog faeces.
Harry Steel – NZ Junior Record Holder for Catching Heaviest Yellow Fin Tuna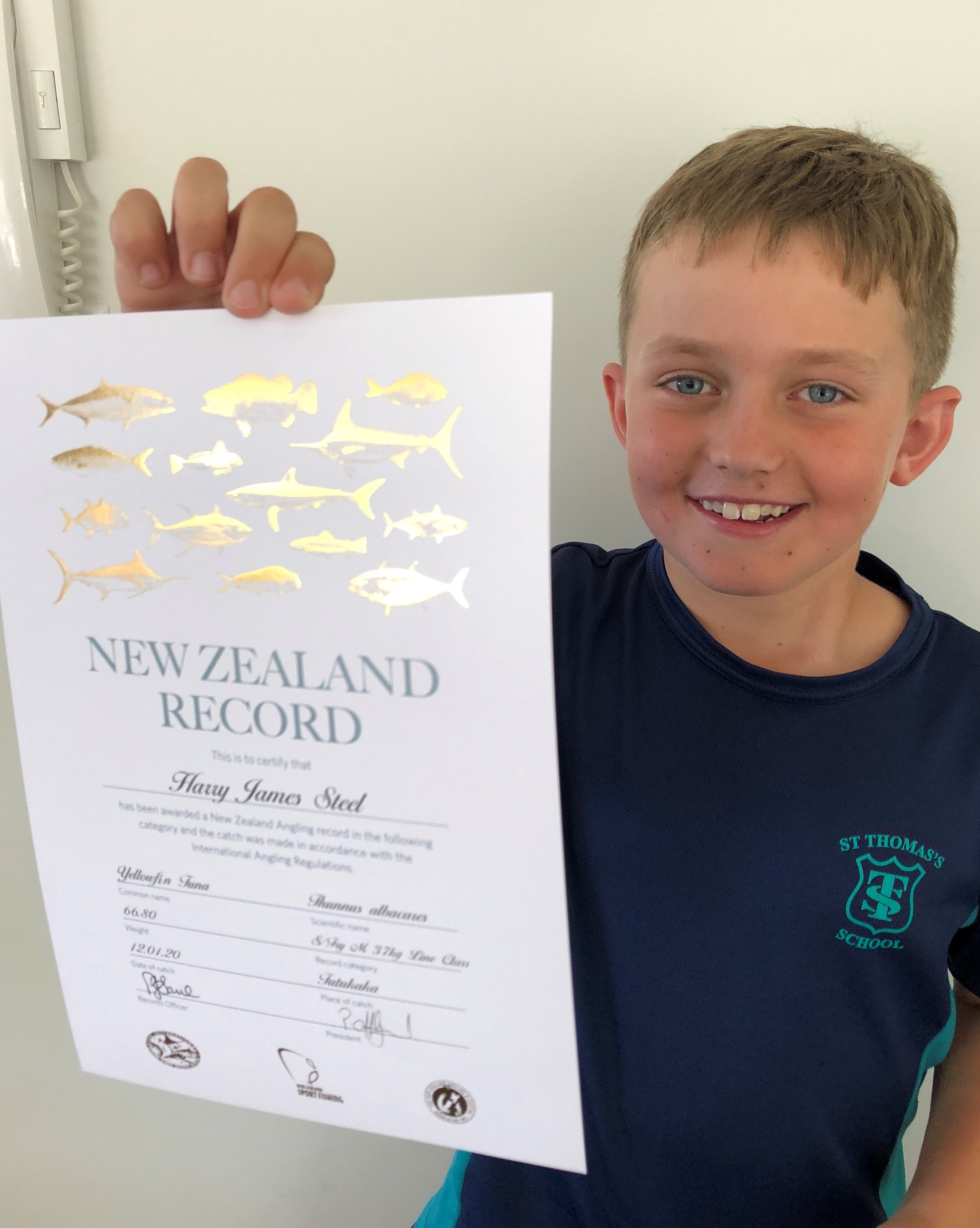 On Saturday the 11th of January we were fishing in the Arthur's Emporium Junior Fishing Tournament out of the Whangarei Deep Sea Anglers Club in Tutukaka. I was on my dad's friend's boat called Offsite with Paul the skipper (that's the driver of the boat), his daughter Lola, and my dad. That morning we all woke up at 5am and headed to the service station to fill the boat up and to get a pie for breakfast. That day we didn't catch anything but saw lots of fish including whales, dolphins, sunfish and mahi mahi. The next day we started with a pie for breakfast after filling the boat up with fuel and headed really far out to 300m of water deep.
It was only 9am when we went through a tide line and the water temperature went from 20 degrees Celsius to 22.5 degrees Celsius and shortly after the rod started to bend and zizz. We all had no idea what was on the other end! My dad and Paul wound in all the other rods because we didn't want them to get tangled up with my rod. I had to reel it in by myself with no help from anyone else. After 30mins or so we didn't think it was a marlin because it didn't jump out of the water, so it was either a shark or a tuna. It took me just over an hour to reel in the fish which was surprisingly a yellowfin tuna. It took my dad and Paul both to lift it into the boat. Paul thought it was just over 40kgs. After we celebrated and called my mum to tell her all about it we carried on fishing to see if we could catch something else. At around 1pm Lola reeled in a striped marlin which we tagged and let go as it was still a baby at 75kgs est. We then headed back to the fishing club to have my tuna weighted in. When they weighted it on the big scales it was weighed at 66.8kgs – everyone was very excited and a whole lot of people stood round to see the fish and I had lots of photos with it. The Weighmaster who weighs all the fish was so amazed to see such a big tuna. He checked the club records and saw that it could be a Junior record in New Zealand. My friends Grand-dad cut the fish up for us and we all ate lots of Tuna for about a week!
We have just found out after waiting about a month for the line to be tested that my tuna has beaten the past NZ record – Now its official that I am a New Zealand Junior record holder for a Yellow Fin Tuna caught on a 37kg line.